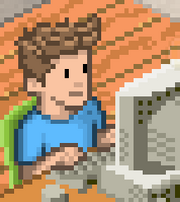 The character is the player's virtual avatar in Bitcoin Billionaire. When the game first begins, the player is allowed to customize their character however they wish for free. Players can customize their name, gender, hair, skin, face and clothing. The name and gender chosen will be reflected in the Fizz News Feed whenever the player's character is referenced. 
The character will provide commentary whenever you purchase new Investments, change locations, room items, clothes, recieve uncommon bonus, tap on them or are idle for too long.
After completing the tutorial, the player may recustomize their character at any time from the Store for a small fee of 1 Hyperbit.